ABOUT US
(But first

: Thank you so much you're here! We' re so

honoured

you want to sail with us!) 
Fall in love with Paros again and again like Dimitris, your Parian captain.
See through his eyes, ask him for insights and tips, take advantage of his passions – sailing, cooking, making new friends, talking about Paros.
It's been more than a decade now (since 2010) that Dimitris took over the traditional ex fishing boat of his family, renovated it and gave Michael Zeppos boat a fresh mission: To connect travellers from all around the world and give them the real Paros experience, the local version.
Go off the beaten track, spend quality time with your family and friends, taste our food and experience our liberating way of life!
"Feel local" has always been the core value of Michael Zeppos Boat Tours. 
Because Paros is great but only because of its people: Both locals and travellers like you. It can't be otherwise.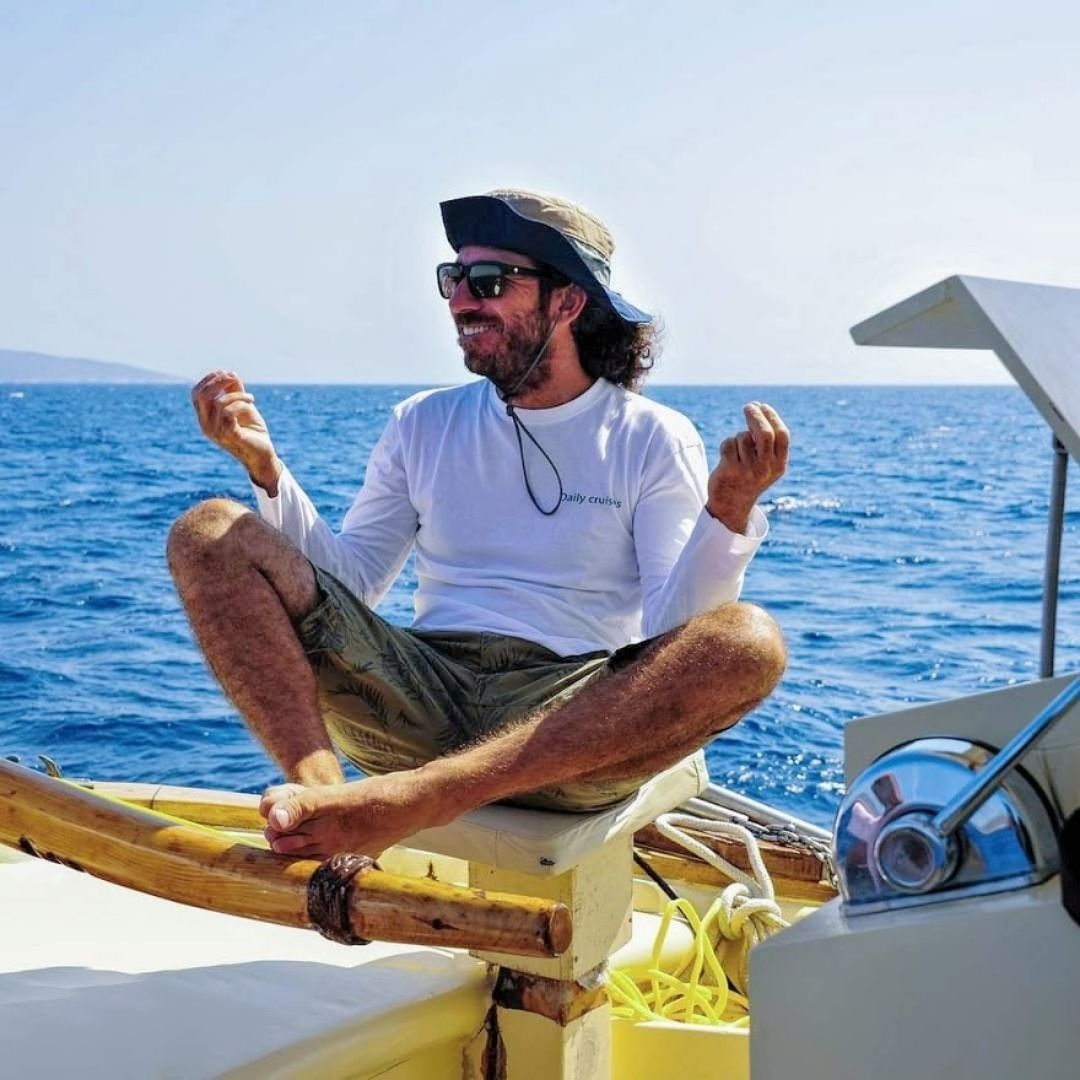 "Let me guide you to the secret beauties of our islands.
Come as a visitor. Leave as a
friend.

"
Dimitris Triantafillos,
Owner & Captain of Michael Zeppos Boat Tours
Have you ever tasted a greek yiayia's fáva dish?
Her name is Stavroula and she's Dimitris' mother. She's in charge for some of the most yummiest plates on the menu.
If you haven't tasted her octapus, her fish roe salad (taramosaláta) and her split peas dish (fáva) you may want to start packing and come asap to Paros and have a Michael Zeppos tour!
She's passionate about food and taste and so does her son Dimitris, your captain to be.
Good, plenty and tasty food is a form of respect for our guests. And the best way to take you in!
Have you sailed with a traditional wooden greek boat before?
It feels smooth and steady. It's like coming closer to the sea and nature, dolphins and seagulls included. And it's not about speed or power. It's about true connection. (It's awsome.)
We' re so in love with our boats that we consider them part of the Triantafillos family!
Michael Zeppos 1 is distinguished for its plain sailing and aristocratic style.
It has always belonged to us either as a fishing boat or as a cruiser. It was renovated in 2010 and since then Dimitris maintains it and looks after it all year round with special care. After all, it's his heritage from his father, Captain Michalis.
Michael Zeppos 2 is our new baby.
It's a bigger, more spacious, more comfortable boat, very beautiful and luxurious.
In 2019 Dimitris found it and fully reconstructed it to serve bigger families or groups of friends (<40 travellers) who want to live the best Paros activity. (Like you, maybe?)
"My father's name was Michael. Zeppos was my grandfather's.
Mine is
Dimitris

, but I also turn to Jim, Mitsos, Michael,
Captain Zeppos, Captain Michali etc… It's an honour."
Dimitris Triantafillos,
Owner & Captain of Michael Zeppos Boat Tours
Want to join our cruises and live the best day of your vacation?
Select one and click for more.